Heathly Eating Tips & Advice for New Mums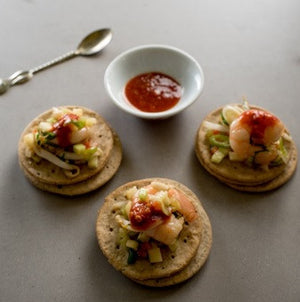 Being a new mother can be absolutely exhausting and your precious new baby is your number one priority. As such, you may find you have little time to look after yourself, particularly in terms of maintaining a healthy, balanced diet.  But it is worth making this a priority too. During pregnancy and birth your body will have gone through so many changes. In addition to rest, you need to maintain a healthy diet to help you to recover and it's also important for keeping your energy levels up.
For our third post in our tips and tricks series, we've put together a range of ideas to help you eat a healthy diet when you are feeling tired, hungry and time poor.  
Nutritionist and Pilates teacher Ruth Tongue says "When you're sleep deprived it's tempting to survive on coffee and cake to see you through the day - instead fill up on high protein snacks like nuts, hummus, eggs. You could even try beef jerky for a protein and iron boost! Limit caffeine to a couple of coffees or teas a day to avoid energy spikes and dips."
Breakfast is the most important meal of the day but it's so easy to skip and then you spend the rest of the day grabbing whatever you can get your hands on to keep you going. "Start the day with something nutritious that will keep you full", says Ruth. "B vitamins are essential for energy so get your daily dose by starting the day with some porridge or whole grain toast with eggs or nut butter and snacking on oatcakes with avocado or hummus. Dark green veggies are also a great source of B vitamins."
We love the Quinoa kettle porridge recipe from the Hemsley sisters. Just a few minutes prep and you have a super nutritious easy breakfast whenever you need. It will keep in a jar for about a month and all you need to do is scoop a few spoonfuls and pour half a cup of water on top. The recipe is featured in their latest book but you can also read it here: http://www.redonline.co.uk/food/recipes/hemsley-hemsleys-quinoa-instant-porridge
Oats are often recommended by dietitians and nutritionists as a good source of energy and to keep you going throughout the day. And oats aren't just great for breakfast; they also make a brilliant snack. High in soluble fibre, no added sugar and a low GI means they are digested slowly to keep you fuller for longer, whilst stabilising blood sugar levels.
High GI foods like white bread and cornflakes are digested very quickly, providing a short term energy boost, followed by an energy low a few hours later… leaving you hungry and exhausted. The perfect combination is to combine low GI with some protein and a little fat to keep you satisfied and to ensure slow energy releases.
We have two great recipe ideas from our friends at Nairn's developed by nutritionist Amanda Hamilton. Nairn's have been baking oatcakes for more than 100 years s they really are the expert when it comes to oats.
Amanda Hamilton's Asian Spiced Prawns Topped with Kimchi
Ingredients
1 small piece of pineapple, finely chopped
50g beansprouts
100g cooked king prawns
1 inch cucumber, peeled and finely chopped
50g spring onions, roughly chopped
Small bunch coriander leaves, roughly chopped
10g unsalted cashews, toasted if preferred, crushed
Pack of Nairn's Cracked Black Pepper Gluten Free Oatcakes
For the dressing
½ clove of garlic, crushed
1 small red chilli (seeds in for extra heat or taken out if you prefer), finely chopped
½ lime squeezed
Dash of tamari sauce
Squeeze of honey
Method
Mix all ingredients in a bowl and spoon onto your gluten free oatcakes.
For an extra kick, top with Kimchi which you can buy premade from most supermarkets
WHY THIS IS GOOD FOR YOU…
Herbs and spices are an inexpensive way to add flavour to food without the extra fat, calories, or sodium, at the same time as delivering specific functional benefits. Chilli is one of nature's best-known antibacterial foods and great immune protector. Kimchi is a native side dish from Korea made from fermented vegetables with lots of seasoning. The fermentation process that creates Kimchi ensures it contains plentiful amounts of beneficial bacteria - otherwise known as probiotics - that support the gut along with providing vitamins A and C.
Amanda Hamilton's Aubergine, Tomato and Parmesan Oaty Bake
Ingredients
2 garlic cloves, crushed
2 tablespoons coconut oil
1 tin of chopped tomatoes
1 tablespoon of tomato puree
Pinch of dried mixed herbs
2 aubergines cut into thin slices
50g grated parmesan
1 egg beaten
5 Nairn's Rough Oatcakes, crushed
Method
Preheat oven to to 180c
Cook garlic and half of the coconut oil in a pan until soft and add in the tomatoes, herbs and puree.
With the remaining coconut oil, griddle aubergines in a griddle pan until browned (about 5 mins). If you don't have a griddle pan lightly fry instead.
Soak any excess moisture on kitchen towel.
Layer an oven proof dish with the aubergine then spoon on the tomato mixture.
Top with the beaten eggs and then sprinkle the grated Parmesan and oat crumb mixture on the top.
Place in the oven for 20 mins or until golden.
WHY THIS IS GOOD FOR YOU
Aubergine is much under used vegetable in British cooking but it's one of the most versatile around.  Used extensively in Mediterranean cuisine, it contains high levels of antioxidants and many essential B-vitamins that are excellent for supporting energy release in the body. Tomatoes, another Mediterranean staple, contain lycopene, an important antioxidant that is made more available to the body through the cooking process. Using oatcakes as a base is preferable to white bread crumbs in terms of both depth of flavour and nutrient content - it also makes this delicious recipe wheat free!
When you do get a chance to cook, try to prepare more than you need and save the rest for the freezer. To save space and for your own quick to heat healthy ready meals, try the flat freezing method: Put one portion of the meal you've prepared into a zip lock bag and when sealed lay flat and freeze. When frozen, store in the freezer drawer for a filing cabinet of quick meals that can be easily heated on the hob without defrosting (because it's been frozen in such a thin layer). 
Baby2Body founder and CEO Melinda Nicci says, "a huge part of healthy eating is focussing on how your food makes you feel - which is different for everyone. Monitor this by making small notes on what you eat; then, maximise the foods that make you feel good, and cut out the ones that might taste good but ultimately leave you feeling worse off."
*Readers should note that the authors of this blog post are not qualified medical professionals and are giving our opinions based on our own experiences. Please check with your own healthcare professionals when embarking on any new fitness or dietary programmes.