Going home for Christmas...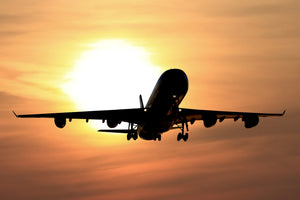 Tips on Travelling with your baby
The holiday season is soon upon us, and with your baby's first or second Christmas approaching you might be considering a flight or train journey home to see friends and/ or family. Having done the long haul trip from London to Sydney numerous times with my children, I know that travelling with a baby can be quite a challenge... but don't be overwhelmed. Follow these simple tips and your journey will be much easier and filled with holiday cheer - rather than holiday tears!
Ensure that they are dressed comfortably
A scratchy care tag or a tight waistband can be an irritant for anyone, and for a baby's soft skin they can feel like torture! When your baby's clothing is uncomfortable, they are likely to be fussy and refuse to sleep – dress your wee one in soft layers that can be added and taken away as needed. Merino wool is ideal for travelling – it is comfortable and ultra soft, warm yet breathable. Right now you can get 15% off of Scarlet Ribbon's precious merino wool baby clothes with the discount code WOOL4WINTER.  
A light, stretchy blanket, such as the Scarlet Ribbon Merino Baby Blanket is essential for swaddling and keeping your baby warm and cosy on a long trip or flight.  It also makes a great play mat and cot blanket during your stay.
Take a lot of extra food and drink
Your flight or train might be severely limited when it comes to biscuits, fruits and other snacks that your little baby can munch on in the event of a delay or unexpected hitch. Make sure that you pack a lot of extra bits and bites to eat and ample fluids – not just for baby, but for mum (especially if nursing) and dad as well.
If you are bottle feeding, sterilising on the go is difficult and often not even possible.  If this is a concern, buy a pack of disposable, pre-sterilised bottles. Tommee Tippee do a 5 pack that should get you through a 24 hours of feeds! 
Bring a new toy along as a surprise
If your baby is old enough to enjoy playing with toys, you should definitely bring along a brand new object as an in flight treat (and remember to always pack some tried and true favourites as well). This should keep them distracted and gleeful – the journey will pass in the blink of an eye.  You can also have some baby apps downloaded on your phone or Ipad as a back up!  
Help them to pop their ears
You may be familiar with the feeling of your ears popping as the pressure changes in the airplane cabin. While adults are capable of understanding this phenomena and can cope with the pain, your baby might experience agony and confusion. Encourage your baby to stay awake during take off and landing – they swallow more air whilst awake, and therefore will not wake up to pain in their ears. You can also encourage them to nurse or drink from a bottle – this can help equalize the pressure in their ears.
Bring extra clothes, nappies and wipes
You may be worried that you will have a hard time finding a place to change your baby's nappy whilst travelling, but airports and airplane restrooms always have a changing table available. Trains can be a bit more of a challenge, but you can usually find a place to make the change. Always pack one or two changes of clothes as well as nappies and wipes just in case things get messy or you get delayed unexpectedly along the way.
Don't forget to pack a thermometer, baby paracetamol and teething medicines!
Babies always seem to get sick at the most inconvenient times!  Make sure you are prepared and bring a thermometer and paracetamol.  Calpol does useful travelling sachets in 5ml portions - less messy than using a bottle! Teething granules are also a lifesaver for little ones growing their first pearly whites...
And finally...
For those of you travelling abroad, make sure you ring the airline prior to your flight to confirm a bassinet seat..it's not always guaranteed a the time of booking and can make all the difference to your sanity as your baby is more likely to get some decent sleep time! 
With these tips in mind, you can travel with your baby in peace and style. Happy holidays to you and your baby!