Babyproofing your Home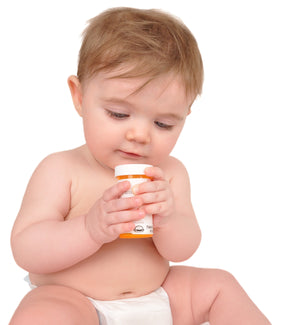 The first year of your baby's life is filled with milestones, every little development met with pride and joy.  But once confined to a safe, soft area of your choosing, at around 8 months your little one hits a big one; crawling (or scooting, as some babies prefer).
From now on no longer do you simply have to keep an eye on a stationary baby, you now have a moving target and everything is a potential plaything, and a potential danger. However, there are a few steps you can take to prevent accidents and unwanted trips to A&E…
A useful thing to always keep in mind is that the head height of your baby is basically ankle height for you.  Socket guards are cheap and easy to install, and window locks, to prevent windows from opening wide enough for your baby to climb through, are incredibly handy particularly if you have sliding style windows. Cable ties can keep wires out of reach and in neat bundles, whilst curtain and blind cords can be easily secured to the wall. Stair gates - top and bottom - will save intrepid climbers from taking a tumble, whilst door gates will keep chosen rooms conveniently baby-free.
With those general and most important babyproofings sorted, you can go room by room, making just a few additional and easy changes.
Baby's Room
This is the room that baby is going to be spending the most unattended time in, particularly in the cot. So keep that cot away from windows and blind/curtain chords, and make sure that once your baby is standing you remove any mobiles far away from reaching distance. Picture frames and anything that could be knocked by eager hands are best not hung above the cot, and the cot mattress should be set to the lowest position once your baby can lift themselves to standing. Also when storing toys, consider using a box without a lid so that little fingers do not get trapped.
Bathroom
Bathing safety does not change as your baby ages, so as ever use a bath thermometer to make sure the water is not too hot, ideally around 37-38°C, and never leave your child in the bath unattended – even for a few seconds! Keep medicine, toothpaste and other hazardous bathroom products out of reach or securely locked away, as brightly coloured bubble liquid can look ever so edible and enticing.
Kitchen
Ah, the disaster zone. Since the idea of babies and sharp objects combined is naturally terrifying, knives and metal cutlery should be kept far out of reach, and likewise any matches, lighters and alcohol. Covers for cooker knobs are easily available, and door locks are recommended for all food and cleaning product cupboards (you can even get invisible magnetised ones which are easier for adults to open and avoid the unslightly outer locks ) And pet owners; shuffle their food and water bowls somewhere inaccessible to baby - those little biscuits can be a choking hazard, and your fluffy friend will be thankful for an undisturbed meal time.
Living Room
Most living rooms are filled with soft furnishings, but make sure you add rubber or foam protectors to the edges of sharp coffee tables, fireplaces and any other sharp edges you can spot. 'Climbable' furniture should be pushed against a wall, and all those little ornaments should be popped out of reach to prevent any kind of choking hazard. Plants too should be kept out of reach of babies, for the wellbeing of both.
Utility Room
Washing machines seem to be a source of endless entertainment for babies, but make sure that all front loading washer and dryer doors are closed securely  and that all washing and cleaning products are kept out of reach.
So, that covers most bases, but before you now let your little adventurer loose why not have a quick crawls around the house yourself? This list is by no means exhaustive but with this much under wraps you can handle any additional requirements as you spot them.
Now with the house all done you can finally, but most importantly, babyproof your baby. Crawling is busy work, so flexible clothing which is tough and comfortable is essential. And since it is also tiring, your baby will (as usual) be sleeping both day and night. Safety is a key concern when baby is sleeping, and Scarlet Ribbon daywear is designed to ensure this and also be comfortable for both play and naptime – our favourite is the Merino Zip Up Daysuit that can easily double up as a cosy sleeper. Wool not only helps regulate temperature to keep your baby from overheating, it is also UV and fire resistant so you can rest assured that your baby is not only looking super smart, but is also super safe.
Scarlet Ribbon Merino:   Simple. Sustainable. Stylish.­