Finding Your Balance in 2018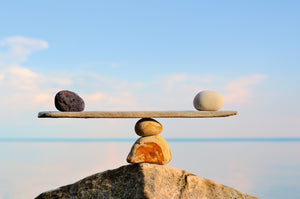 The new year gives us a great chance to reflect, renew and reinvent. With the space and opportunity to refocus our energies on finding balance and peace of mind in 2018 and beyond, let's look at some of our favourite ways to recharge our batteries for the year ahead following the hectic Christmas season…
Make Realistic Plans
Start out by setting yourself a flexible framework for the next twelve months. It's important not to be too rigid, as you could easily change a few things down the line. Be careful also not to view this as we normally do New Year Resolutions, but as a guide to the things you want to do, see and experience within the next year. Establishing a few key goals will help you maintain a positive, can-do attitude – and crossing them off your list at the end of the year will be even more satisfying.
Decide Health Goals
Just as in any other area of your life, goal-setting is vitally important for your health. Instead of forcing yourself towards unrealistic and unsustainable diet goals or a gruelling workout regime just as the Christmas decorations come down, focus instead on the outcomes you want from your health and fitness – and work towards these in responsible and achievable ways during 2018.
Make Time for Cosiness
Once you've jotted down some of the things you want to achieve this year, it's time to let go and give yourself time to relax! A new year can be a stressful time for many, and making plans for downtime is without doubt just as important as making plans for staying busy. Every item at Scarlet Ribbon Merino is lovingly crafted to help make cuddling up and recovering from all that Christmas partying even more appealing. From stunningly soft wool baby blankets to swaddling blankets sure to help baby avoid the winter chill, you can take advantage of the miraculous properties of true wonder-fabric merino wool while keeping baby's temperature regulated at the same time. The Scandinavian wellness trend 'hygge' - or 'cosiness' - is everywhere now, and at Scarlet Ribbon Merino we believe in celebrating the simple pleasures in life, including making time for the things and people which truly matter. Cultivate a warm and inviting environment for you and baby, establish your plans for the year ahead, and begin to watch the year unfold in timeless style.