Junior Design Award Winner 2017!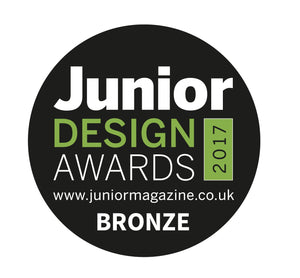 Here at Scarlet Ribbon Merino we have much to celebrate, having recently scooped the Bronze award for the Best Baby Fashion Brand in this year's Junior Design Awards! We were up against some tough competition including babywear design favourites Rachel Riley and Marie Chantal.
Here are some of the judges' comments…

 Bonita, Editor of Junior Magazine:
"It's great to see a relatively young company making such big waves and as a big fan of traditionally knitted pieces, which are harder to find these days, I'm so pleased Scarlet Ribbon has won an award."
 Sarah Clark, Fashion Editor and founder of Little Spree:
"Scarlet Ribbon is my fave baby collection by far - I love the colours, the trad feel and it's lovely and soft too."
 
Alongside this great awards news, we are excited to launch three new colourways for Autumn as well as a gorgeous new jumper design with our adorable sheep motif.
Scarlet Ribbon Merino designs are playful enough for daytime wear and smart enough for special events, with wonder-fabric, merino wool providing a hypoallergenic solution to ensure optimum comfort for whatever the day might bring!  
Have a look at the new collection online www.scarletribbonmerino.com
And for those of you who are London-based, be sure to come and visit us at our pop-up shop in Notting Hill this September – see (and feel) the superb quality  of our knitwear for yourself!  The Shop will be located at 79-81 Ledbury Road from 8-14th September where we will be selling alongside some other great childrens' brands, including Martina London.

See the full list of winners at 2017's Junior Design awards here