SCARLET RIBBON WINS BRONZE FOR BEST CHILDREN'S KNITWEAR COLLECTION 2018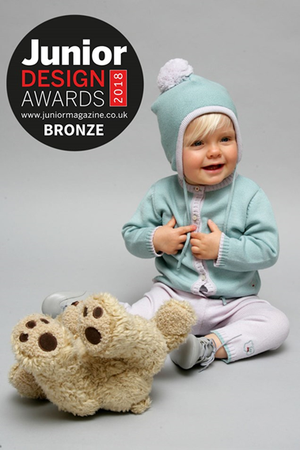 Scarlet Ribbon was thrilled to win Bronze in for Best Children's Knitwear Collection in this year's Junior Design Awards!
WHAT: A young British brand specialising in gorgeous knitted daywear for babies made from extra fine merino wool in a palette of soft colours that can be mixed and matched.
WHY: Our judges loved this company's dedication to creating heirloom pieces that pass the test of time. The quality of the pieces was commented on by many of our judges who were also impressed by the price point. Gabrielle Spang, founder of stunning on line store Scandi Mini commented, "Great pricing for merino." while fellow judge Gemma Metcalfe-Beckers founder of The Mutha.Hood said, "Beautifully crafted and I love details like the top zip cover on the daysuits."
WHERE: Scarlet Ribbon Merino