The benefits of Mother and Baby Yoga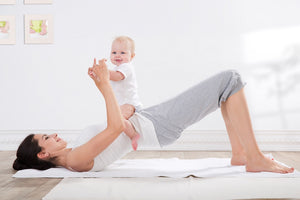 The final post in our series of blogs discussing the different types of beneficial activities that you can do with your baby... this week we are discussing Mother and Baby yoga.
Many mothers to be take part in pregnancy yoga as a way of keeping active but also as a way of keeping calm and bonding with their unborn baby. Continuing to practice once your baby is born can be a great way to meet other mums and babies and is also an opportunity for some peace and calmness in your day.  You don't need to practice yoga or even know anything about it to take part, classes are suitable for complete beginners up to yoga enthusiasts. 
Mother and baby yoga classes focus on gentle movements for both mum and baby,  but be sure to only start once you have had your 6 week check with your GP. This may be longer for those who have had a c-section. Sessions usually feature music and rhymes to create a fun and relaxing environment. The classes can help to calm or stimulate your baby and you may learn techniques that you can use on a day to day basis too outside of the class.  Many mums are worried that their babies may cry during the class but this is ok. The yoga teachers are usually well aware of how babies behave and many welcome mothers feeding or doing whatever they need to do in order to keep their babies calm and happy. This can seem a welcome change in comparison to having a screaming baby in a coffee shop or supermarket in the early days. 
Yoga practitioner and new mother Suzi Hall found classes with her daughter to be extremely beneficial in the early days. "Yoga with your baby can be a wonderful experience for both mum and baby. Mum gets an opportunity to be in calm surroundings with other new mums. Yoga is about nurturing our body, breath and heart so if the gym feels too intimidating, especially postpartum, it can give mums the space to feel comfortable in their body, but still leave feeling as though they've exercised. It can give quiet and space for those needing to process not only the birth but all that becoming a mum entails. For the baby it's a calm environment but also has the pleasant sounds of other babies, they are stimulated by watching mum move and of course love the singing, playing and movement themselves. It can be a particularly nice bonding experience and a great way to introduce little ones to studio spaces and yoga!" 
Key benefits of mother and baby yoga
There are many benefits to taking part in a Mother and baby yoga class.  Yoga teacher Natasha Kerry (www.natashakerryyoga.com) says: "Practicing Yoga with your baby has many benefits and one of the most important is that it is a great way to bond with your child. It is an environment where a mother can switch off and unwind and in doing so opens herself up for meaningful connection with her new-born baby.  Yoga calms the nervous system and levels of adrenaline and cortisol, something a mother may be relying on to get through sleep-less nights and busy days and this relaxation effect will be felt by the child too."
The key physical and mental benefits of mother and bay yoga include:
Strengthening and toning your muscles, especially abdominals, pelvic floor and back
Encouraging you and your baby to find time and space for relaxation
Using the breath to increase calm and confidence
Improving your sleep
Promoting understanding of your baby's development
Engaging and bonding with your baby
What to wear?
Don't worry, you don't need to go out and buy yourself a brand new yoga wardrobe to take part! The most important thing to allow you both to relax is that you are both as comfortable as possible. Both mum and baby usually have bare feet so leggings are ideal or a sleepsuit with no feet. Our Merino baby leggings and Merino day suit are both footless and extremely comfortable whatever the weather and they are perfect should baby nod off after class. Some classes provide all materials such as mats, blankets etc. but parents are sometimes advised to bring specific comforters or toys for their baby or an additional blanket. Our merino baby blanket is beautifully soft and stretchy and a generous size too (75 x 100cm). It's a great multi-use product, perfect for in the pram, as a cot blanket or play mat and its stretchy enough to use as a breast feeding shawl too.