Tips for Dressing Your Baby in Autumn/Winter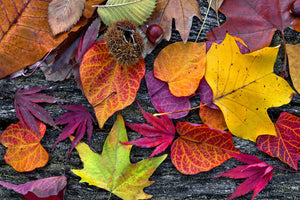 After an unusually warm summer, Britain has finally slipped back into its norm with chilly Autumn days. If your baby was born after April this may be their first experience of cold weather, and so as ever you'll need to stock a new wardrobe! And if they're a seasoned winter pro, they're sure to have grown and need a little revamp. We've put together a few key tips for keeping baby warm, comfortable and stylish during the colder months...
When it comes to these colder seasons you encounter the worry of baby either overheating and being too cold, and finding the balance can seem tricky – a comfortable baby is a happy baby, but you need to get their clothing right to ensure this. According to the SIDS Center your baby is likely overheating if he is 'sweating, has damp hair, a heat rash, rapid breathing, or is restless'. Conversely children can be at risk of cold related issues – keep an eye out for shivering, blue lips and numb red fingertips, and if they get wet change out of those damp clothes as soon as possible.
The key to keeping this all at bay and simplifying dressing? Layering up natural, woollen clothes so that your baby will be able to temperature regulate even when moving from the warm indoors to the chill outdoors.
For your first building block, get some bodysuits. We recommend a good number so that you can have a clean one every day or so (4 or 5 ought to do it!). This is the core of your temperature regulating arsenal so we love a soft merino version, with or without sleeves. Our favourites are by Bambino Merino and Merino Kids, the latter featuring little fold-over mittens for scratch safety and a layer more warmth!
Over this baby should wearing his or her leggings and shirts/tshirts (so long as the fibres are natural; synthetic layers mean baby's skin will no longer be able to 'breathe)'Our soft and comfortable Scarlet Ribbon merino leggings are perfect for Autumn.  They have an elasticated waist for easy changing and the merino will keep baby feeling dry even after an accident as the yarn is super absorbent and wicks moisture away from the skin.   You will also need two or three jumpers / cardigans. Ours are 100% merino, super soft and warm, and durable enough to machine wash at 40 degrees, so no extra effort! (Some colours are recommended hand wash only)
Headed into the snow? An outer jacket or snow suit is very helpful, and means that as you move indoors you can easily pop baby out and voila, suitably dressed again! These will generally not be natural fibres but you can find styles that have natural linings, waterproofing, heat retention and wicking properties.
When it comes to little ones accessories are essential; a large amount of heat is lost from a baby's head, so make sure to cover it! Our gorgeous pom pom merino hats are snug, itch free and have a chin tie so even a wiggly baby can stay cosy. To add to this, mittens and booties or socks are also essential – little fingers and toes can go cold fast, and if you need a smart look and extra security, our collection of pram shoes are ridiculously adorable and practical too!
Although your baby sleeps indoors, in winter even a heated house can be too cool; a footed sleeper or sleep sack lets your baby stay warm and comfortable – see Bambino Merino and Merino Kids for cosy but breathable ones, both with merino. The wool means they will need less washing, and will dry quickly, so you only need a few!
For daytime grab a few merino daysuits – these can go over a bodysuit and fit under a snow suit, and keep baby looking smart for all different occasions! Our Zip-Up daysuits are really practical, allowing easy dressing and changing and are super safe and comnfortable for daytime napping.
Finally, blankets are indispensable for that last layer of extra warmth. Our lightweight merino blanket is stretchy enough for wrapping baby up snug as well as using as a warm layer in the pram/cot.
With a handful of these base essentials you can feel prepared for the next 6 months of chill (or longer, depending on where you live!) and know you're doing it in a way that is Simple, Sustainable, and Stylish.  Shop our full collection www.scarletribbonmerino.com.