Travelling With Your Baby – Part 1: Getting Ready To Go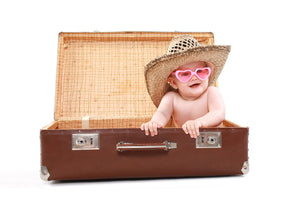 Planning your first trip abroad with a little one this summer? With a new baby holidays can feel overwhelming, stepping away from the comfort and equipment of home. But with our parent-tested tips to make it all a little easier you'll be well on your way to enjoying a holiday that works for all the family.
This is the first in a two part guide. For this part we'll focus on getting planned, booked and ready to go, whether it's a staycation in the UK, popping to the continent for some Mediterranean sun, or going further afield.
Choose a Destination
Enjoy dreaming up some potential holiday destinations and then add a baby, which helps narrow this down. Any place you stay needs to be family friendly; hotels with cots and highchairs, meals for kids and the godsend of a crèche can give you time to enjoy some more adventurous times out and save your luggage filling up with baby gear.
For more private trips rented houses often have these resources too if you just ask. It's also wise to ask whether any pools, gardens and stairs have guards or gates, but these can be worked around.
Keep  in mind is that road trips and busy city breaks lack the routine that babies love, and may simply end up with a lot more stress than they're worth; choose a single destination and use that as your base. If you do choose a city trip then hunt down family oriented travel guides –Kid's World  includes fun trivia about destinations, whilst Travel For Kids focuses on fun for all ages.
Finally, if you were planning a tropical getaway, keep an eye on potential temperatures. Air conditioning is a blessing but your baby will be unhappy and outdoor activities restricted in temperatures above 40 degrees.
Booking and Buying
Travel documents are essential, so make sure you apply for your baby's first passport well in advance of travel. In peak summer months the passport office gets busy with few appointments available, so if your baby is due in the summer you may find it harder to get one last minute. You will struggle to get an appointment for a currently unborn baby, however you may be able to use the fast track one week service. Check online at gov.uk to make sure you have all the documents needed ready in advance to speed up this process and avoid hiccups!
When it comes to plane tickets babies do not take their own seat so you can often book for the parents and later, upon receiving the passport, call up and add baby to the booking. However check this with your flight provider before booking anything!
Travel Insurance is always smart to get, but now make extra sure it covers the correct number of children too!
Get Ready To Go!
As adults the good old last minute packing dash is commonplace, but with a baby, this is no more! Most of what you pack for your holiday you will have already, but a few you may need to pop out and buy, so think ahead.
Here is a list of essentials to get you started;
Travel
Food and Drink
Clothing and Nappies
Bed and Bath
Others
There is bound to be an awful lot more you can throw in your suitcase, and a lot you'll realise after a few trips you can do without. But as a general guide, we hope this helps you feel a little more certain about getting ready for your first family trip this summer!
Tune in soon for part two, covering the journey and holiday itself!