Wearing wool for summer?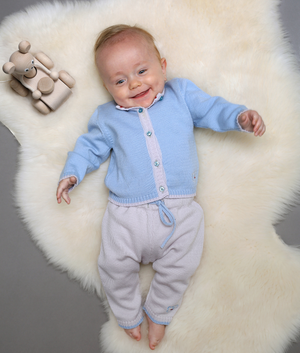 Wearing wool might seem like an unusual choice in the sunny summer months, but merino wool baby clothes like those offered by Scarlet Ribbon Merino are a perfect way of keeping your baby cool and cosy at once.  
Here are some of the top reasons to choose merino wool this summer season:
Perfect for Changeable British Weather
We all know that UK's summer weather is nothing if not unpredictable; one minute the sun is shining, the next there's clouds overhead. While we wouldn't recommend baby wears a full woollen outfit in 30 degree heat, merino wool is ideal for those times when you're not sure if the weather might take a turn for the chillier, or for summer evenings when the temperature begins to drop.
Versatile and Breathable
The key to merino wool's versatility lies in its breathability, ensuring baby's wardrobe can stay practical and stylish from day to night. Stick to leggings and keep a blanket to hand for warmer days, but pop the cardigan on during the colder nights when baby needs something a little cosier.
UV Protective Properties
Merino wool baby clothes don't only look beautiful – they also serve a vital purpose by helping protect baby from harmful ultraviolet light. There is simply no other fabric which can compare to these unique benefits – and they are ideal for times when the temperatures rise and you need to keep your baby covered, as well as making great unisex baby gifts.
Soft and Comfortable
Scarlet Ribbon Merino clothing makes the perfect newborn baby gift. Baby will love the touchable, soft feel of merino wool, which sits comfortably next to the skin without causing irritation to sensitive skin, with a temperature regulating structure woven naturally into each strand and odour control helping to keep baby's skin clean and dry.
The Scarlet Ribbon Merino Range
Scarlet Ribbon Merino stocks a wide range of stunning baby clothes made from the finest merino wool, quality assured and crafted from 100% natural fibres. Our knitwear cardigan and leggings sets, hats and baby blankets come in tonal shades sure to keep baby looking smart and feeling comfortable. Our new jumper with the delightful sheep logo will be available from 1st August 2017, and we are simultaneously launching three new colourways to add even more versatility to baby's wardrobe.
All orders over £50 come in our gorgeous cotton reusable bag, giving you even more reasons to keep baby cosy and comfy this summer!
Try Scarlet Ribbon Merino for Yourself
Fancy seeing how you can make merino wool work for your baby this summer? Simply enter promotional code SUMMERWOOL17 at the checkout for 30% off until the end of the month!